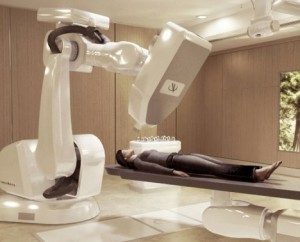 CyberKnife treatment is a groundbreaking method for treating non-invasive tumours, either malignant or benign. The CyberKnife Robotic Radiosurgery System can be used on lesions in any part of the body (including prostate, lungs, brain, spine and spinal cord, and lungs). The new technology has been shown to help patients with inoperable tumours and is also advantageous for those looking for alternatives to traditional surgery. Contrary to what its name might suggest, it does not involve any incisions, so there is no post-operative scarring. Additionally, it is pain-free and does not lead to complications associated with conventional surgeries.
A CyberKnife treatment is a new development in radiotherapy. It relies on targeting tumours with beams of high-dose radiation while sparing the healthy tissues around them. It comes equipped with a system that precisely tracks the location of the tumour and adjusts the apparatus' position in accordance with the patient's movements during treatment.
During treatment system small doses radiation are delivered to the tumour or vascular anomalies from different angles. The beams intersect at the mass' location. This ensures that it receives the maximal amount of radiation and that adjacent tissues are spared. Rather than a helmet (like the one used during Gamma knife surgery), CyberKnife surgery is performed using a specialized soft mesh mask or custom-fitted cradle molded to the patient's body.
Advantages
Can be used to treat any tumour
Extreme accuracy, intra-treatment correction possible
Patients do not need to be fixated – the CyberKnife system is mobile and its specialized software targets only the lesion.
Can be used for inoperable tumours (irregularly-shaped or recurring tumours, masses that can't be removed due to their location and lesions located next to radiosensitive organs. CyberKnife is most efficient in treating the following disorders:
The lesion's exact position is monitored throughout treatment (as it can change due to breath movements, peristaltic movement, gases etc.). The system then adjusts as needed to ensure that the surrounding tissues are not irradiated. This significantly shortens the treatment. Unlike conventional radiation therapy, the entire course of CyberKnife treatment can be completed within 5 days.
CyberKnife Treatment at Assuta Medical Center:
Israel's Assuta Medical Center offers CyberKnife treatment for all tumours (whether malignant or benign). All specialists in charge of the radiosurgery had been trained in the top radiological centers in Europe and the US and have vast experience in the field.