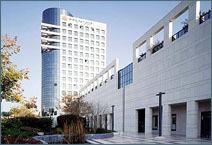 Ramat Aviv Medical Center (MC RA) is one of the most regarded private clinics in Israel. The facility, which opened its doors in 1999, presently occupies a space over 26,000 m2 at a commercial site located in an upscale Tel Aviv neighbourhood. The clinic's facilities include four state-of-the-art operating theaters and specialized diagnostic rooms. MC RA has thirteen spacious private/semi-private rooms for its patients (with washrooms). In each room you will find all the necessary medical equipment, as well as various amenities (such as TV with cable). The center's staff are dedicated to maintain a comfortable and friendly environment, which helps expedite its patients' recovery.
Specialization
MC RA specializes in diagnosis and surgical treatment of a wide array of medical conditions. It is highly regarded by patients thanks to its skilled personnel and the excellent diagnostic tools it has at its disposal. The Medical Center includes a medical lab, and operates departments of gastroenterology, computed tomography, nuclear medicine and IVF, and a pain clinic.
The center's cutting-edge diagnostic technologies allow it to identify oncological diseases at their earliest stages, thus ensuring optimal chances of recovery. Virtual colonoscopy, CT and CT angiography are amongst the most common procedures that take place at MC RA. Surgeries are often performed utilizing minimally invasive access techniques, thus shortening the post-operative recovery period.
Ramat Aviv Medical Center's staff is comprised of top-notch specialists, many of whom interned in Europe's top clinics. They constantly hone their skills, to make sure they stay up to date with medical and technological advances.
Departments
Computed Tomography and Ultrasound
MC RA's CT & US department utilizes the newest methods to diagnose spine, chest, brain, abdomen, pelvis and joint conditions. Radioisotope scans (i.e. isotope thyroid scan, kidneys, liver, spleen, lungs and heart scans) are performed in line with the most modern radiodiagnosis protocols.
Department of Gynecology/Maternal Health
The department offers excellent diagnostic tools for couples suffering from infertility and runs a highly successful IVF program according to protocols customized for each patient.
Department of Pulmonology & Allergy Clinic
Offers comprehensive investigation of airway disorders including lung function tests, bronchoscopy (with biopsy if necessary), CT-guided punch biopsy, as well as various allergy tests (i.e. common & food allergens, animal fur and pollens and other allergens).
Department of Stomatology
The department of stomatology at MC RA holds 3 operating rooms, an ICU and hospitalization rooms and provides round-the-clock advanced dental diagnostic and treatment care, including digital X-ray imaging with reduced exposure to radiation and laser dental surgery.
Ramat Aviv Medical Center is one of the world's most advanced medical facilities. Its state-of-the-art equipment and multi-faceted approach to problem-solving allow its specialists to quickly and efficiently diagnose and treat the problem. It is popular amongst patients from Europe and former USSR republics, and has been, for the past decade, treating players from 2015-16 basketball EuroLeague winners PBC CSKA Moscow.