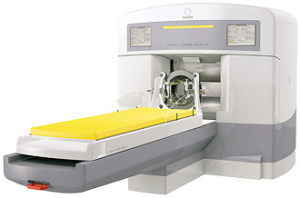 A gamma knife surgery is considered to be one of the most effective methods of treating central nervous system tumours (both malignant and non-cancerous). This new tool for stereotactic radiosurgery (SRS) can also be used for treating both primary and metastatic tumours, benign brain masses and vascular anomalies. It is optimal for masses not exceeding 3 cm in diameter.
What is Gamma Knife Surgery?
The Leksell Gamma Knife® is an innovative radiosurgical tool, which allows non-invasive surgeries with minimal damage to surrounding healthy tissues to be performed. Unlike "traditional" surgery, Gamma Knife treatments do not require anesthesia and subsequent stay in an ICU, and only take a couple of hours. Most patients are discharged after just one night in the hospital.
The method relies on utilizing concentrated gamma rays to dissolve the lesion and correct blood vessel shapes. The system uses cobalt-60 as a source for the gamma rays. A special helmet with 201 holes ("collimator") is fitted prior to the start of the procedures. These holes allow radiation beams to pass into the patient's brain according to a computer-determined pattern. Adjacent tissues are only exposed to minor amounts of radiation (as the concentrated beams do not pass through them) while the tumour, which is at the focus of the rays, receives optimal dosages.
Gamma knife surgery is indicated for:
[[Primary brain tumours]] (especially tumours located in the proximity of the pituitary gland and sella turcica or deep brain lesions)
Brain mets
[[Brain aneurysms]]
Neurinomas
Inflammation of the trigeminal nerve
What Happens During Gamma Knife Radiosurgery?
Even though it is primarily used to treat brain lesions, recently experimental treatment of mucosal and cervical vertebrae tumours has been attempted. The system's software allows the delivery of radiation in accordance with the mass' shape (as opposed to in a circular motion, as was previously the case). This improves the precision of the treatment while protecting adjacent organs. The ground-breaking robotized system also increases safety. It comes equipped with a specialized helmet, which allows modifying both area and intensity of therapy in real time, thus reducing session length to only 30 to 60 minutes. Additionally, the new technology significantly improved the patients' comfort, as now the entire bed he or she are laid on rotate, rather than just the patient's neck.
Gamma knife treatment only takes 1 session to complete. There is no need to stay in the ICU following it. You will also not require pain medications and there are no bandages or anything else associated with traditional surgery. The only potential side effect is local swelling in the brain, which usually passes within a month and a half.
Treatment at Assuta Medical Center
In Israel, gamma knife surgery is performed at the state-of-the-art Assuta Hospital. The specialists in charge had been trained in the top radiological centers in Europe and the US and have vast experience in the field of treating various malignant and benign CNS tumours.