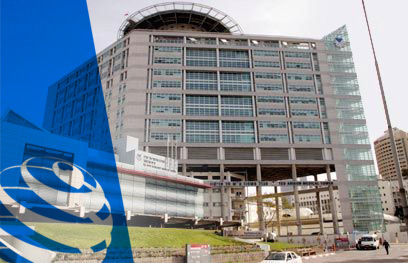 Sourasky Medical Center (also known as Ichilov Medical Center) is Israel's third largest hospital with over 3,500 staff members, many of whom are world-renowned specialists. It holds over 1,100 beds and more than 150 inpatient department and 60 speciality departments. Other than serving as a hospital, Ichilov also provides a scientific base for the Faculty of Medicine at TAU (Tel Aviv University).
Because of its size Ichilov is sometimes referred to as a "medical city". Other than the main building, which has a helipad on the roof for emergencies, it also holds a maternity hospital, Dana children's hospital, a rehabilitation facility and other buildings. Having all these facilities in one place allows Sourasky Medical Center to efficiently perform all the required investigations and provide all necessary treatment.
Some of Ichilov's facilities are recognized worldwide for their excellence. For example, Dana Children's Hospital gained international acclaim for it ground-breaking surgeries and successes in treating oncological diseases.
Sourasky Medical Center's Diagnostic Facilities
Sourasky's diagnostic facilities include all the required state-of-the-art equipment and are staffed by highly-trained specialists, capable of performing all the necessary manipulations in a swift manner. Particularly challenging cases are considered by a multi-profile team of top Israeli and international specialists. This allows to quickly determine the most efficient course of treatment.
Ichilov Medical Center takes special pride in its surgical division, including the department of orthopedics, which improved the quality of life for hundreds of thousands of patients, and the surgical oncology department that has vast experience in dealing with complicated cases.
Sourasky Medical Center is highly efficient at treating a wide range of medical problems and has become a brand name worldwide. Its specialists are rightly considered world-leaders in many fields of medicine. This is down to an amalgamation of constant practice, continuous professional development, access to top-of-the-line medical equipment, and a climate of cooperation amongst its staff.