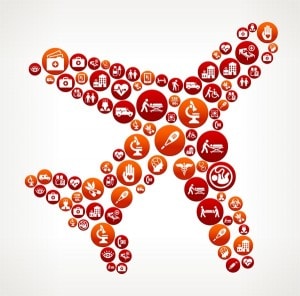 An Air Ambulance, also known as medical air transport, is an international medical emergency service, which specializes in airlifting patients (by planes or helicopters). It is available for any and all Manor Medical Group patients.
Equipment on Board:
Air medical services planes have a special hermetically-sealed cabin to help maintain patients in stable condition. Additionally, as, depending on the transported patient's condition, multiple kinds of medical emergencies can occur during the flight, the planes are equipped with:
3 emergency care kits with mechanical ventilation devices and medicines
State-of-the-art cardiac monitor
Defibrillator
Oxygen masks
Auto-injectors
Powerful accumulator battery
Medical vacuum pump
Splint-making materials (if need arises)
Oxygen tanks
Additional equipment on-board will depend on the patient's condition and length of the flight.
How Much does Medical Air Transport Cost?
It is no secret that air ambulance services are usually costly. Unlike the case in many other medical tourism providers, Manor Medical Group provides this service at face value. This means that Manor's patients only pay the provider's price with no surcharges. The final cost is determined according to travel distance, urgency and the charges by receiving country (i.e. airport tax).
Cost also includes the fee for a specialized brigade of physicians that will monitor and treat the patient during the flight, and all drugs and disposable materials used. Please note that ground transportation fees are to be paid separately.
How Does an Air Ambulance Service Operate?
The patient is driven by ambulance to the airport where the medical air transport plane is waiting for him (usually the nearest big city's airport). In order to ensure maximum comfort, the ambulance will be granted access to the landing strip. Border control (for the patient and up to 2 accompanying persons) will take place aboard the plane.
An ambulance will pick up the patient directly from the plane once it landed and transport him to a hospital. During the flight, the pilot will operate in line with the recommendations of the medical staff, who will maintain constant contact with the patient's treating physicians (in both origin and destination countries).
How Do I Order an Air Ambulance Service?
Private medical air services are available 24 hours a day, 7 days a week. Patients can only be transported after approval is given by both their treating specialist and the plane's pilot. To order an air ambulance service you will need to provide us with the intended transportee's medical records and copies of the patient's and accompanying person's passports and visas (if required).