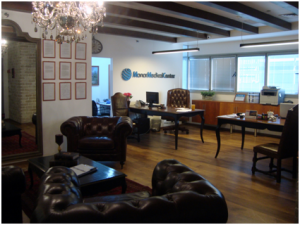 Sound too good to be true, doesn't it? It isn't!
Our rock-bottom prices are possible thanks to our "modular approach" mode of operation. This is how it works: At present, most Israeli hospitals are public. The skilled specialists employed in them treat the hospital's patients, and dedicate their remaining time to research and private practice. At the same time, a specialist from Ichilov Hospital (for example) cannot practice at Sheba. Most medical tourism in Israel providers "attach" their patients to one particular medical center. That means they undergo treatment according to that center's schedule, alongside all the center's other patients.
Manor Medical Group chose a different approach. We found an ideal platform for treating our patients at the private [[Assuta Medical Center]]. Assuta is unique in that while it possesses state-of-the-art facilities and top-notch medical equipment, it has almost no staff of its own. Instead, the hospital invites the country's top specialists to use its facilities for diagnostic/operative procedures as part of their private practice. An invitation from Assuta has become a "seal of quality" for Israeli specialists.
Taking the above into account, Manor focused its efforts on establishing a partnership with Assuta. At present we serve as the medical center's representatives and are responsible for most of the international patients it treats.
Medical Treatment in Israel with Manor Medical Group – Because Time Matters
This special status allows Manor Medical Group several advantages:
Discounted prices for treatments and diagnostic procedures.
Priority access to Assuta's facilities – this allows us to provide diagnostics and medical treatment in Israel in an expedited manner, significantly shortening the amount of time our patients need to stay in Israel for (thus cutting down their accommodation costs and day-to-day expenses, which constitute a significant part of expenses for patients who seek medical treatment abroad).
The ability to have our patients treated by the best experts in their fields, without being limited to staff members of one particular medical facility.