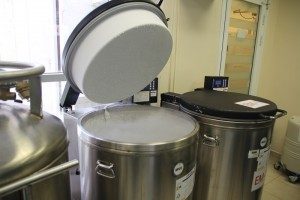 Vitrification is a flash-freezing process that results in a solid, glass-like substance. It is currently the main method of egg freezing, associated with best IVF outcomes. Unlike other methods of oocyte cryopreservation, ice crystal formation (which may damage the egg) does not occur during vitrification. As the technique requires a considerable amount of skill, it is important to put your choice in the right specialists/medical facility. At Assuta Medical Center egg vitrification is performed by seasoned experts. Around 90 percent of the oocytes survive the process. IVF success rates (per cycle) are at around 35%.
Indications for Egg Freezing
Reasons for opting for fertility preservation can be divided into two categories: medical and social.
Medical Reasons
The primary medical reason is being diagnosed with cancer. As surgical procedures, chemotherapy and radiation therapy (or a combination thereof) can negatively affect fertility, many patients opt to have a portion of their oocytes frozen for future use (this is a relatively new development – previously the only option was using an oocyte donor). It is important to note that embryo / egg freezing needs to be performed prior to the commencement of oncological treatment. If chemotherapy has already started, egg retrieval is usually no longer be advised. In such cases ovarian tissue preservationist may be beneficial.
Vitrification is also used during IVF cycles when, for whatever reason, the retrieved eggs are immediately fertilized (for example, if the partner's/donor's sperm sample has been found to be of insufficient quality).
Social Reasons
The development of cryopreservation techniques has paved the way for "social freezing": preserving eggs for the purpose of a future pregnancy, at a time of the patient's choosing. This allows women to pursue their career/interests without worrying about future fertility issues. As egg supply begins to dwindle around the age of 35, having frozen eggs (retrieved at a younger age) improves the odds of falling pregnant, even at an advanced age.
Oocyte Cryopreservation Success Rates
Israeli specialists are considered world-leaders in the ART (assisted reproductive technologies) field. Thanks to their expert skills, around 90 percent of eggs survive the freezing/thawing process and can be used for fertilization. According to a number of clinical studies, the odds of each individual thawed egg to be successfully fertilized are between 4.5 and 12 percent. The odds of pregnancy following an embryo transfer are between 36 and 61 percent.
Egg freezing by means of vitrification significantly improves the odds of the eggs surviving the freezing/thawing process and being subsequently successfully fertilized. It is an important fertility preservation technique, which allows patients who opt for it (whether due to medical or social reasons) to have a chance of experiencing the joy of parenthood later in life.
Treating Physicians
Arik Kahane – OB/GYN and fertility specialist, head of Assuta Rishon LeZion's Department of Gynecology and Fertility.
Pavel Itzykson – world-renowned clinical embryologist, head of Assuta's IVF Department.
Vitrification with egg freezing is available to patients under 41 years of age. Each patient can have up to 20 oocytes stored at the clinic for future use.