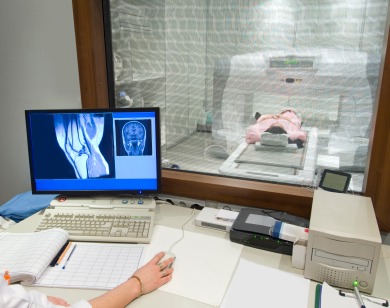 Assuta Medical Center has recently begun utilizing Siemens' innovative PET-MRI (positron emission tomography–magnetic resonance imaging) scanner. Its main purpose is obtaining in vivo images. A PET-MRI scan can be performed only following an Israeli oncologist's referral.
What are the Advantages of a PET-MRI Scan?
The integrated system allows for molecular-genetic imaging. Combining two existing technologies (PET and MR). This is a first device of its kind, and is capable of providing a wealth of information about the patient. The innovative system provides high-quality molecular-genetic imaging in vivo (including brain and spine).
Because PET-MRI images are at least 70% clearer than those obtained by either technique separately, the technique is crucial for early diagnostics and staging of malignant diseases and detection of microscopic molecular changes specific to Alzheimer's and Parkinson's, which previously could not be seen. It has also greatly improved the ability to visualize signs of cognitive impairment, brain atrophy and CVAs.
What are PET-MRI Scans Used for?
Neurology: The combination of PET and MR technologies allows for better imaging (and thus understanding) of neurological disorders. At present, it is considered to be the most promising method of visualization for detection of brain tumours, neurodegenerative diseases and signs of psychological disorders.
Oncology: PET-MRI imaging assists with early detection and exact staging of malignant tumours, and is crucial for determining the right course of treatment, and as a monitoring tool.
Diagnostic imaging: The technology opens up previously unavailable possibilities for diagnosing abdominal abnormalities by drastically reducing breathing artifacts.
Cardiology: The diagnostic tool provides more complete information about ventricular morphology and function as well as additional info pertaining to the heart's shadow. The scan can be used to diagnose diseases such as sarcoidosis, myocarditis and myocardial infarctions.
Pediatric Oncology: A PET-MRI scanner overcomes artifacts related to small body size, faster heartbeat (compared to adults), signals from growing/developing tissues and breath-hold artifacts.