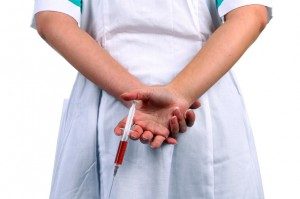 Disk herniation treatment involves a complicated surgery during which one of the discs is removed. Even when performed by the most skilled surgeons there is no guarantee that you will not experience complications. This is why many people prefer, whenever possible, to seek other treatments. Up until recently, however, there simply wasn't another option of effectively dealing with the condition. Now there is such: Introducing Orthokine therapy under CT guidance. This treatment, better known as "Regenokine" in the US, has been found to be useful not only in cases of disk herniation but also for any other orthopedic pathologies which cause chronic pain and inflammations (such as degenerative disorders of the joints). It became known as the "Kobe procedure" among basketball fans after news broke out that NBA star Kobe Bryant had undergone it.
The treatment is performed using the patient's own blood. After extraction, it is placed into a special autoclave and heated to 37°C. After 48 hours the sample is placed into a centrifuge to separate the special proteins that had formed in it. The obtained serum is then injected into the affected area (up to 3 injections are performed). Approximately 70% of patients who'd undergone the treatment reported that painful sensations stopped immediately following the first injection.
When is Orthokine Therapy Used?
The purpose of Regenokine treatment is to stop an arthritic agent known as interleukin-1, which is responsible for joint inflammation and degeneration. Orthokine is an active protein, which contains a high concentration of interleukin-1 receptor antagonist. It does not only prevent further damage to the cartilage surface, but also promotes its regeneration. As the injected material is 100% biocompatible there are no side effects.
What are the Indications for Regenokine Treatment?
Orthokine treatment is indicated for patients with pains caused by inflammatory processes, rather than mechanical pressure on nerve root endings or spinal cord. It should also be noted that Regenokine will not be extensive in late stage arthrosis where the joint cartilage has been destroyed almost in its entirety.
Orthokine/Regenokine Cost:
The price of therapy depends on the number of shots required (most patients receive 3, which are performed 3 or 4 days apart). It includes the cost of a senior radiologist's examination (you are advised to have your MRI scans with you, provided you have them).